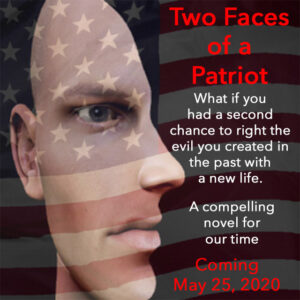 Norm Novitsky, producer and director of the award-winning In Search of Liberty Constitution movie, has penned a novel titled Two Faces of a Patriot. Billed as a compelling novel for our time, it intertwines factual data and occurrences alongside fictional characters, adventure, politics and a bit of a love story with a time stretch into the near future for this original adventure. The book has a May 25, 2020 release date set.
Novitsky, the creator and principal author of the tale, and contributing author John Truman Wolfe (Mind Games), have served up a captivating story with roots based on a fictional account of real-life events that occurred at the turn of the century while being primarily set in the near future, at a time when paranoia, control and power have changed virtually everything in American society and where tensions have risen dramatically, calling for extreme measures to be taken in the name of freedom.
New York Times bestselling author David Farland (The Runelords), one of those who has read a pre-publication edition, said, "It's been a long time since 1984 came out. Every few years, though, someone comes up with some ideas that kind of play off of that, that show social engineering as it is going on today. This is one of those stories. It deals with a future in which social engineering is moving in such ways that it is impinging on human freedom. I recommend this book and give it five stars."
While another reviewer, Air Force veteran and author Diann Thornley Read (The Sergey Chronicles), had this to say, "Using the aftermath of the 9/11 attacks and extrapolating into the decades that follow, authors Norm Novitsky and John Truman Wolfe have written an important and powerful novel...one that should be read by every American who values the freedoms established by our Founding Fathers and the Constitution."
Preorders for Two Faces of a Patriot, are being taken through an Indiegogo campaign where supporters may choose from different perks for their contributions, including Novitsky-autographed trade (quality) paperbacks or even a limited-run hardcover edition.
More information about the novel may be found at the books' Indiegogo page.
by Scott D. Welch, Patriot
Direct descendant of 8 Americans who fought in the Revolutionary War
Cousin of Patrick Henry